A Southern Gem in Pawleys Island
Litchfield Country Club was Pawleys Island's first course, opening the floodgates for an area that has become a golf travel hotspot. While the surrounding area has grown considerably. Litchfield's commitment to golfers remains unchanged, delivering a classic design, outstanding conditions, and customer service that makes everyone feel like a member for a day.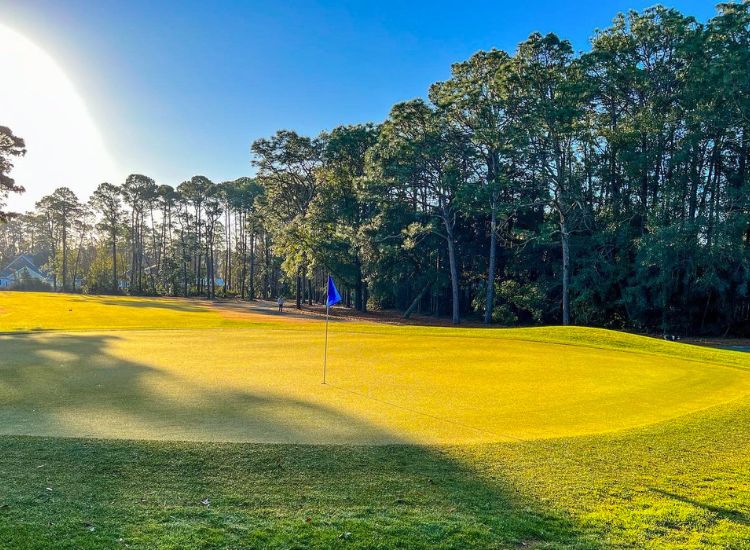 A semi-private facility, Litchfield plays through soaring live oak trees draped in Spanish moss, a picturesque backdrop for a layout that places a premium on hitting fairways and intelligent golf. The Willard Byrd design is home to an assortment of doglegs that rewards golfers for playing a tactical game. In keeping with its old school ethos, the course's greens aren't exceedingly big but they are open in front, allowing golfers to be creative in how they approach the pin. Whether you are on a golf vacation or a resident looking for a club to join, Litchfield is one of the Myrtle Beach area's quiet stars.
Best rates guaranteed by booking online
Book Litchfield or a Golf Course Nearby
Litchfield Country Club has 20 sister courses from Little River to Pawleys Island. Easily book a tee time for Litchfield Country Club or any of our associated courses below. Get the guaranteed best rates by booking below.
Weddings & Private Events at Litchfield Country Club
A Favorite Lowcountry Event Venue in Pawleys Island, South Carolina
While the golf attracts much of the attention, the appeal of LItchfield extends far beyond the course. Blessed with a stunning piece of Lowcountry property, Litchfield is one of the Myrtle Beach area's most popular venues for weddings, rehearsal dinners, birthday parties, anniversary celebrations, reunions and so much more. The inviting rocking chairs, double grand staircase, chandeliered ballroom and flexible spaces have helped make Litchfield, which can host up to 150 people, a go-to spot for private events where elegance, service and setting are at the top of the priority list.
Litchfield Wedding Venue
Weddings at Litchfield
The perfect venue for your big day!
Lowcountry Event Venue
Private Events at Litchfield
Litchfield is more than a golf course. Private receptions, parties, celebrations and good times.
Join Our Club
Memberships at Litchfield
Enjoy the Litchfield Lifestyle Full Club Membership
Myrtle Beach Golf News
Follow the latest news from Grande Dunes and across the Myrtle Beach golf community, including written stories, golf tips, videos and podcasts.
Byrd's Dandy Dozen Myrtle Beach Golf Holes

Five years ago, MBN.com unveiled a series highlighting the Monsters of Myrtle Beach golf, four desig

Four Trickiest Holes at Litchfield Country Club

On the very first day Litchfield Country Club opened for business, there was a registered hole-in-on

Short Drives, Big Fun at Myrtle Beach's Top 5 Golf Course, Sports Bar Combos

Playing golf, followed by a couple cold drinks with buddies, might not be the perfect day, but it'

The Waccamaw Golf Trail Reimagined As One 18-Hole Course

For years, we've profiled every part of the famed Waccamaw Golf Trail. But never quite like thi

The Perfect 36-Hole Day? Five Winning Golf Course Combos

Playing 36 holes a day isn't easy - at least for us older folks - but it's good to do at least o

Five Myrtle Beach Golf Courses To Play With Mom

Mother's Day is nearly upon us and there is no better way to say "I love you" to the golf lovi

Perfect Start? Myrtle Beach's 5 Best Arrival Day Golf Courses

Many group leaders don't book a day of arrival round of golf, opting to let their charges schedule

Scariest Shot? Easiest Hole? 10 Thoughts About Litchfield Country Club

Golf course architecture has evolved over time, but well-designed, older courses continue to maintai

Old School Rules: 5 Classic Myrtle Beach Designs You Need to Play

Wide fairways and greens big enough to build a house on are modern architectural features, but recen

One Hole At A Time: Myrtle Beach Courses With Concentration-Friendly Routing

Some architects were clearly given a patch of land that seemed destined for not only great golf, but
Book Tee Times Online for Guaranteed Best Rate
Book Now